Appliance Repair, Installation, and Maintenance Services in Devon AB
Maple Leaf Appliance Repair will make you happy by offering prompt and reliable repair, іnstallation, and maintenance services in the Devon area whatever challenging your appliance complexity may seem. We are capable of tackling any issue you may have on your hands. Contact our repair professionals, using any convenient communication channel, and we'll come to your aid as soon as possible to fix your appliances.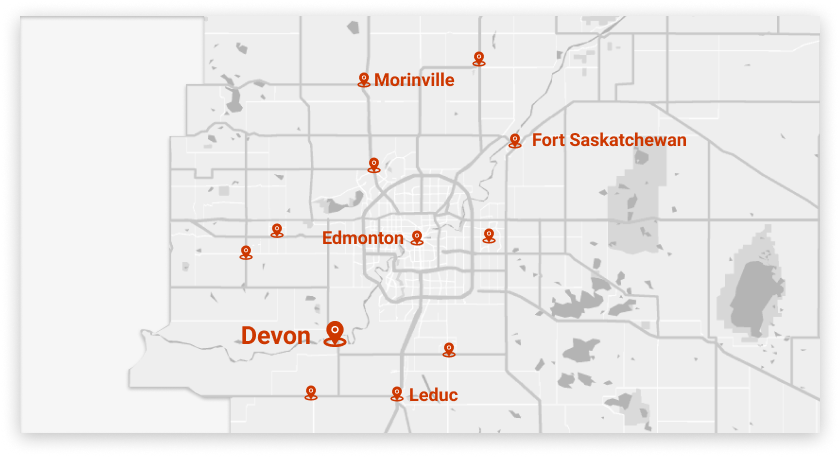 You probably know how hard it is to keep your cooking appliances clean all the time. Different kinds of food leftovers may stick and burn on surfaces and are difficult to remove. Nevertheless, one thing you can do to prolong your oven, stove, or range operation is to routinely and frequently clean them the best way possible. Modern cooking appliances are equipped with self-cleaning systems. Once you've purchased one of the kind, make sure you follow all the maintenance instructions and guidelines provided by the manufacturer in the user manual. Avoid using any cleaning chemicals unless recommended by the manufacturer.
What we can do:
Clean all the surfaces, burners, and head orifices.

Test and calibrate thermostats.

Test oven temperature.
Whether you have an old kitchen cooking appliance or just purchased a new cooktop, you'll need to carry out a proper maintenance routine to keep it running. If you maintain your cooktop correctly and regularly, you won't have to resort to expensive major repairs and extend your cooking facility's operational life.
Once you're unsure how to maintain your cooktop the proper way, don't fret. We are a team of expert technicians to provide you with all the services necessary. Just give us a call or contact us, using other available means, and we'll send our best professionals to do everything quickly and in the shortest time possible.
The maintenance we provide:
Inspecting your cooktop operability
Checking your cooktop display and wire connections
Testing your cooktop temperature ranges.
To have safe meals, you should keep your fridge running without any faults and interruptions. Proper fridge maintenance is the key prerequisite of its smooth operation. Our appliance repair and maintenance experts advise you to defrost and clean your refrigeration appliances every six months. Modern fridges are equipped with self-defrost systems relieving you from the routine defrosting procedures. Once you've purchased such a fridge, all you have to do is to clean the dedicated defrost water pan and eventually get rid of some food odors, occasionally deodorizing your cooling compartment.
What we can do:
Check condenser fan.

Examine and clean condenser coils.

Inspect door gaskets and other seals.

Test compartment temperature.

Test energy efficiency.
If you run a household with a lot of people in your family, you surely have a freezer to store pre-made meals, frozen desserts, ice, and other foodstuffs for later use. Naturally, you want your freezing appliance to run smoothly every time you need it. What a disaster it can be in case your freezer is inoperable due to some malfunctions. To make sure your kitchen freezing appliance works correctly without stopping and avoid major repairs, you know you have to maintain it properly.
For you to make sure everything is in order and to extend your kitchen freezing appliances lifespan without necessary repairs, we provide comprehensive maintenance services to free your mind of another routine household chore.
Services we provide are as follows:
Checking if your freezer is properly installed
Inspecting the freezer compartment for ice accumulation
Examining condenser coils and cleaning them if necessary
Inspecting the compressor and providing maintenance
Checking air coolers
Inspecting the freezer door gasket
Just recall the times when your household had no dryer. Can you imagine your life without it now? You most certainly appreciate all the benefits of using this essential home appliance as it significantly shortens laundry time. You definitely don't want your dryer to stop working, do you? Most repair and maintenance experts will tell you that dryers can eventually malfunction due to lint build-up which you should get rid of.
What we can do:
Verify that your dryer is installed correctly and level it if necessary.

Clear all the lint trapped in the filter and vacuum-clean air vents.

Dismantle, examine, and clean your dryer vent thoroughly.
Any modern mashing machine is a complicated piece of technology. That's why washer repairs can become a real challenge even for a professional expert. To avoid any breakdowns, you have to follow some advice and guidelines. First of all, have it installed and leveled properly. Place your machine as close to the floor as possible to ensure its safe operation. Secondly, never overload your washing appliance with your laundry items. It would be best if you divide all the things into several parts. And finally, always follow all the washing instructions and guidelines provided by the manufacturer. Failure to do so may lead to dire consequences for your appliance operation and safety.
What we can do:
Verify that your washing appliance is installed and leveled properly.

Check water and drain hoses for cracks and leaks and replace them if necessary.

Clear the drum from possible residue.

Inspect door hinges and rubber rim and clean them if necessary.
Your dishwasher is a kind of appliance your family turns to every single day. Just imagine all those cups, glasses, and plates that need washing piled up in your kitchen sink. Do you want to wash all this manually or rather arrange your utensil in your dishwasher and press a couple of buttons? Of course, we know your answer to that question. So, to have your dishwashing machine running faultlessly for longer periods, it needs routine maintenance once and again. Appliance repair and maintenance experts advise checking your dishwashing appliances on a regular basis.
What we can do:
Inspect all moving rinse arms and clear away any food debris out of the holes.

Examine drain filters, remove any solid matter, and wash the filters.

Remove scale deposits if any.

Inspect door gaskets and clean them if necessary.

Wipe all surfaces with a soft cloth moistened with some cleaning agent.
Servicing Most Oven, Stove & Range Makes & Models
We service more than 30 well-known brands including Admiral, AEG, Amana, Asko, Beaumark, Blomberg, Bosch, Brada, Dacor, Danby, Electrolux, Fagor, Fisher & Paykel, Frigidaire, GE Appliances, GE Profile, Monogram (GE), Haier, Hotpoint, Ikea, Inglis, Jenn Air, Kenmore, Kitchen Aid, LG, Magic Chef, Maytag, Miele, Moffat, Samsung, Sub Zero, Thermador, Viking, Whirlpool, Wolf, and more. In most cases, we will attend to your appliances, on the same day you place your order.
Devon's #1 Choice
Be it installation, maintenance, or repair services, our professional technicians will provide you with dedicated services, skillful craftsmanship, and quality work, ensuring that your appliances run reliably and consistently for you to enjoy using them for years to come.
Complete Customer Satisfaction

Full warranty on parts & labour

Up front, flat rate pricing

No hidden fees
Same day service

Friendly, experienced technicians

After hours emergency service

Fully licensed & insured
Serving All EDMONTON Neighbourhoods & Communities:
What Our Customer Says About Us
Since 2015 we have dedicated ourselves to working hard to leave a lasting impression. Our business is mostly generated from word-of-mouth referrals. This is why we have become one of Vancouver's highest rated appliance repair companies. Check out our customer reviews.
Appliance Repair Discount Coupons
Enjoy these special offers for your Appliance Repair Services
*Provide this coupon before the work starts to redeem the discount, one-time discount per service, not redeemable for preventive servicing or prior services, not redeemable in combination with other coupons, only applies towards the labour charge.